Gantt chart
The Gantt chart is a visual view of scheduled tasks over time. Gantt charts are used to plan projects of all sizes and are a useful way to show work planned for a specific day. They also help you display the start and end dates of a project in a simple view.
This tool meets two objectives: to plan optimally as well as to communicate on the established schedule and the choices it imposes.
The diagram allows:
determine the dates for the completion of a project.
identify the existing margins on certain tasks.
to see at a glance the delay or the progress of the work.
The Gantt chart does not solve all problems, especially if one has to plan manufactures that compete for the use of certain company resources.
Method
The method consists of placing the tasks to be carried out in the order defined by the priority and taking into account the resources still available. The most common rules are:
priority to the completion of products with the earliest delivery date.
priority to the first order arrived.
priority to productions with the shortest total duration.
priority to fabrications that use at least one critical resource.
priority to products that have the minimum margin.
This diagram (or schedule) has a number of advantages:
easy to read and accessible to all.
monitoring can be done easily during the course of the project by comparing
the planned dates and the actual dates.
the start and end dates of each task are read directly from the scale of
time.
it allows by allocating resources to tasks to establish the load plan.
The diagram is represented on two axes: time and allocation (often a task can only be attributed to a dedicated entity); and contains two types of elements: bars representing a task and its execution time, and arrows representing prior links.
The Gantt chart makes it possible to analyze all the relationships that exist between the activities, to identify the sequences of activities, to identify the critical path (without room for maneuver) and the start and end dates (at the earliest and at the latest) of each activity. The Gantt chart makes it possible to choose the dates which will be effectively retained to carry out the activities and, possibly, to show the relationships between the activities and therefore the consequences in terms of delays.
Drawing a Gantt chart should be done in three steps:
Determine and structure the list of tasks by declaring the antecedents or other constraints.
Create the task diagram (time criterion). For each of them, it is necessary to determine the duration as well as the room for maneuver.
Complete the diagram with the other criteria.
Example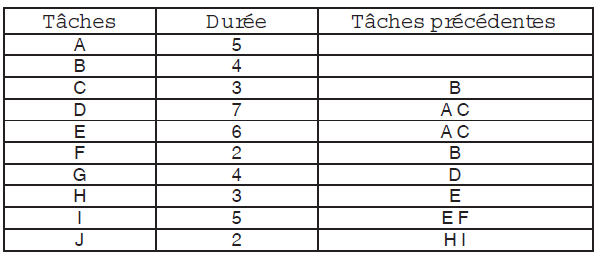 Establishment of the temporal diagram: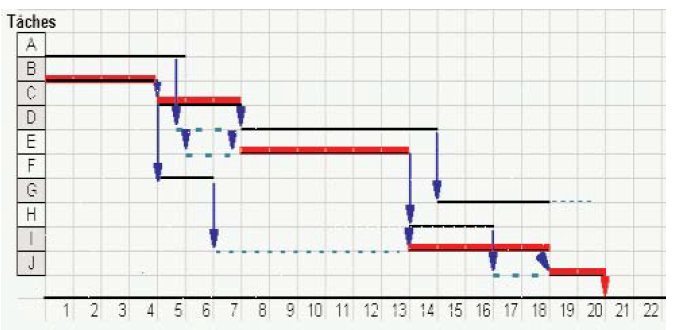 Addition of criteria (here the number of staff to accomplish a task: